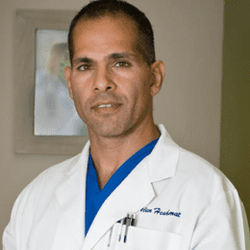 ALEN HESHMAT D.C.
Chiropractic & Pain Management Specialist located in Palo Alto, CA
Let's start with Dr. Alen Heshmat's favorite quote, "IF THERE'S A WILL, THERE'S A WAY!" Dr. Heshmat is a doctor of Chiropractic specializing in nerve, muscle, and joint issues.  His very passionate about preventative care, stopping the pain right away, and then finding the permanent solution to help bring wellness right back in to his patients' lives.
Dr. Heshmat dedicates his time in ensuring his patients get the most personalized and customized treatments available in his field.  Dr. Heshmat's method of treatment is very unique and relies on bio-feedback through evidence based technology, meaning minimal margin for errors. He is very dedicated and focused on finding the permanent and right solution for your symptoms. 
In summer of 1995 Dr. Heshmat volunteered at Glendale Adventist hospital in Glendale California and shortly after realized he could not handle the white lights and white walls of the hospital and knew that's his not what he likes and went onto exploring other options in the medical field. 
He then volunteered in a Physical therapy rehabilitation center in Los Angeles and enjoyed the exercises and their approach to treat.  He got bored quickly and volunteered at a local Chiropractic office in Glendale California and finally found it! What he was looking for was Chiropractic! Something he was fascinated by and since he was a gym rat he got hired as a therapist at a Chiropractic office in Cupertino California which he learned a lot of the physiotherapy modalities and Chiropractic Adjustments. That's where it all started! Completing a Bachelor of Science degree, Dr. Heshmat graduated from Cleveland Chiropractic College and with the help of an amazing mentor and collogue Dr. Anthony Ben Morovati and Dr. Rea Laidler then he opened Heshmat Pain Management Clinic in May, 06 of 2006. 
The clinic now offers chiropractic services, sports medicine, and treatment for headaches as well as shoulder, lower back, neck and extremity pain. An athlete, Dr. Heshmat is well aware of the benefits of an active life and includes sports injury treatment as well as prevention strategies in his chiropractic care. He uses both traditional chiropractic therapies as well as newer and more state-of-the-art therapy to assure that his patients receive customized and highly precise treatments. Dr. Heshmat and the staff at Heshmat Pain Management Clinic are dedicated to helping patients out of pain, improve their health and achieve optimum wellness. Dr. Heshmat's goal is to find the cause of the pain in every situation and restore patients to an active, pain-free lifestyle.